support bar 「TE-GO」
The "Senior Life Expo 2007" on the 28th and 29th of March
2007 was held at Tokyo Big Sight. There, we proposed a newly designed handrail that is easy to grasp and not slippery, thanks to the use of stainless steel in its design.
Now it is widely used in the design of toilets as well as aisles and stairs
New toilet paper design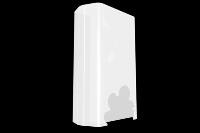 The public toilet is a place that everyone uses in everyday life.
Recent advances have improved the design of toilets tremendously, such as having the lid open and flushing the water automatically.
However, the use of toilet paper has not been revolutionized, keeping with the norms found around the world, without any change for many years.
Why does the design of toilet paper never change?
Now an architect named Junko Kobayashi is trying to improve toilet paper with the power of design!
Please stay tuned to see what kind of novel toilet paper will appear!